6 week cycle, 1 class per week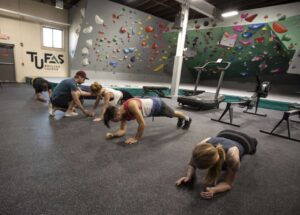 This small group training course combines mobility drills with total body and finger strength training. We focus on functional fitness to address muscular imbalances and build injury resiliency. Learn how to integrate this training with climbing at the crag or on plastic, so you can spend less time in the weight room – because climbing is a skill sport that should be practiced in the field. With this multifaceted conditioning program, you will gain finger strength and grip more effectively, power and endurance capacity, and increase mobility and stability in your joints. This training will make you stronger, teach you more confidence while learning to try harder, and lead to easier skill acquisition on the wall.
Age Group: 18+
Pre-requisites: Intentional Conditioning course is recommended
Instructor to Participant Ratio: 1:6
Member Cost: $100
Non-member Cost:$140
*This program does not include formal on the wall climbing instruction.
*Space is limited. Pre-registration is required.
Get Out to Climb
Buy a pass online and show up any time!